Proper care of the skin of the feet should smooth, refresh and moisturise it. Thanks to various technological solutions and the availability of many active ingredients, achieving these effects is not difficult. The keratolytic effect of urea in the appropriate concentration or fruit complexes rich in AHA acids in preparations such as exfoliating socks or creams will smooth the skin of the feet. Mists rich in plant extracts, essential oils or specialized odour neutralizers can be responsible for refreshment. Moisturising the feet can be achieved by using creams or masks rich in oils (e.g. avocado, sweet almonds) and butters (e.g. mango, shea, cocoa) and specialized ingredients.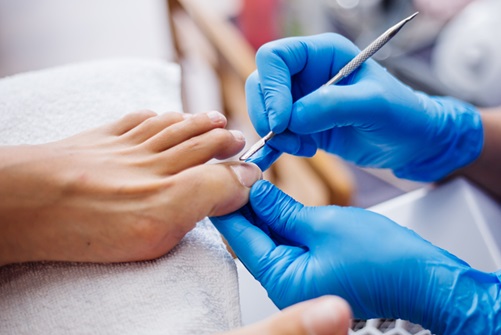 What if we are struggling with a podiatry problem and traditional care is not enough?

Onycholysis, calluses, corns, diabetic foot or ingrown toenail are just some of the podological diseases. Most of them are disease entities that require specialist consultation and properly selected treatment. But can cosmetics also be helpful and effective for such problems?

Cosmetics constituting a unique mixture of ingredients, the action of which is a response to the needs of a person struggling with a given problem, can support the fight against the disease. Additionally, they can be a preparation supporting prophylaxis after treatment.

In podiatry products, it is very important to use ingredients that will provide comprehensive foot care. They will take care not only of moisturising, smoothing, refreshing, but also soothing irritation and inflammation, showing a softening effect and regenerating and rebuilding the nail plate.

The following ingredients deserve special attention:

Cattle colostrum (Colostrum bovinum) – a natural product produced in the mammary glands of a cow at the end of pregnancy. Several dozen hours after giving birth, it is transformed into milk. This ingredient is rich in enzymes, vitamins E and C, epidermal growth factor, proteins, magnesium and zinc compounds. Responsible for protecting and nourishing the skin of the feet. Strongly regenerates. The ingredient supports the care of the skin with diabetic foot ailments.

MUMIO-or shilajit, is a mineral substance obtained in the regions of the Himalayas, Karakoram, Caucasus and Altai. It has been used in traditional Ayurvedic medicine for many centuries. Mumio contains from 80 to 330 bioactive compounds, micro and marker elements and vitamins. Responsible for accelerating the regeneration processes. It has strong antioxidant properties, soothes irritation, itching and redness. Thanks to its multitasking nature, it is a great active ingredient of cosmetics supporting the fight against most podological problems.

KOLLAGEN- is a natural polymer. Thanks to the richness of active ingredients, it enables the reconstruction and regeneration of the skin and nails. The ingredient is recommended in preparations supporting the reconstruction of the nail after the removal of onycholysis.

Find out more about specialist foot preparations. Create a unique formula of a professional podiatry cosmetic. Your brand life begins at Graylabs!