Nail brittleness and a tendency to break them are a common cosmetic defect. The causes of these ailments are the harmful effects of local factors, mechanical injuries and systemic diseases. The appearance and condition of the nails reflect the overall health of the body. So how do you take care of the proper condition of your nails? A cosmetic rich in properly selected active substances is the basis of success.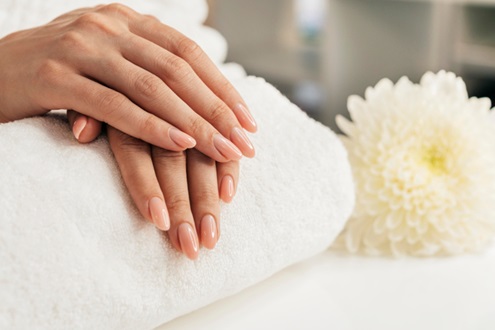 Nails made primarily of alpha-keratin are a specialized product of the epidermis. They take the shape of a rectangular plate consisting of three layers: dorsal, intermediate and ventral. Nails grow out of the fold of epidermal cells, and the proliferative matrix is responsible for their growth.

Healthy nails are characterized by hardness, flexibility and elasticity. These features are determined by the water content, the thickness of the cell membrane, the orientation of the keratin fibres, and the amino acid content of the keratin fibres and matrix.

What should nail care look like? Which cosmetic should you choose?

Nail care should prevent water loss and provide the nails with their building components. Although the range of forms of care products is wide, in the case of nail care, it is worth paying attention to serums. Their concentrated formula, rich in specially selected ingredients, can bring the desired results very quickly when used regularly. It is also worth focusing on the selection of products with encapsulated active ingredients. Thanks to the encapsulation treatment, the stability of the active ingredients is well preserved and they are released when the product is applied.

What active ingredients should nail care products contain?

RICE PROTEINS – support nail growth, strengthen the nail plate and its barrier function

ARGININE – a component of alpha-keratin, reduces nail brittleness

RESINS – protect nails and make them harder

TEA TREE OIL – has an antiseptic effect, soothes irritations

VITAMIN E- is an antioxidant, it effectively cares for the nail plate and the epidermal fold

A nail care product should effectively take care of their good condition, and its application should be a pleasant care ritual. Create your own cosmetic with GRAYLABS! Rely on our experience and specialist knowledge. Please do not hesitate to contact us.